Online learning resources
With the help of online learning resources, anyone can develop their geospatial skills at their own pace whenever and wherever they want. The sources for online learning are abundant and versatile: there are tutorials for the beginners and more specialised courses for the more advanced experts.
The Geoportti website offers useful lists for finding both national and international online learning resources. The skills development section contains geospatial education and training material, learning tools and external resources. The geospatial community is also encouraged to share their own education materials and experiences on geospatial research methods.
For up-to-date resources, we suggest following the course and seminar supply of CSC – IT Center for Science. Also research projects offer seminars and courses from time to time. UTU Geospatial Labs utilises its Slack channels for spreading the information and announcements of interesting geospatial courses and events.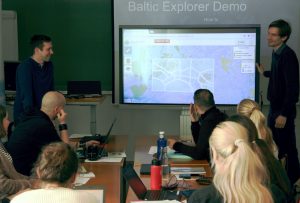 Demonstration of Baltic Explorer, a map-based decision-support tool, on a PhD course organised by the BONUS BASMATI project.